Defining every retro Italian holiday snap in ultimate style – let us present the Vespa: trendy, practical and iconic…
Photo by Amanda Robinson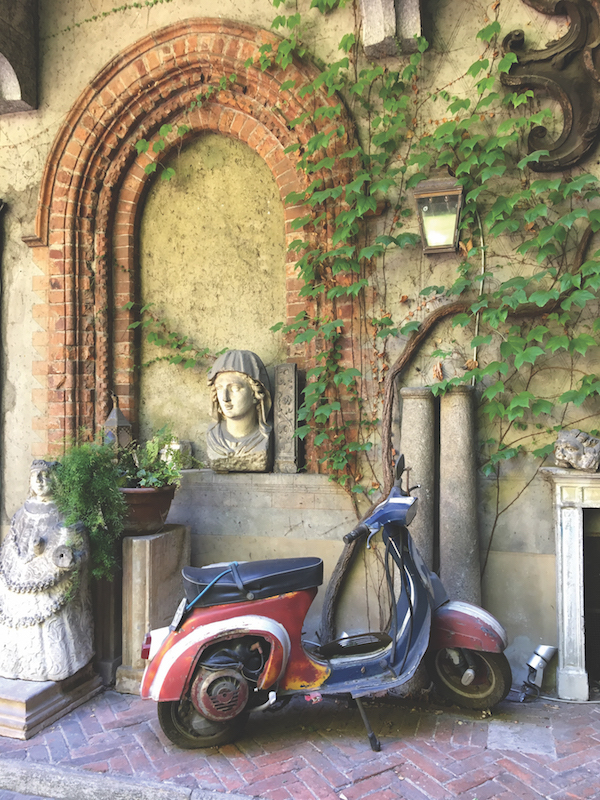 Before the FIAT 500 appeared on the scene, Italy got about almost exclusively by motor scooter. At one point there were more than 100 different motorbike manufacturers in Italy. After the birth of the diminutive FIAT 500, this dwindled to very few, one survivor of which is Piaggio and their Vespa scooter – the little wasp…
In April 1946, this new, functional and innovative mode of transport was presented for the first time at the Golf Club in Rome With its bodywork fully enclosing the drive train and forming a tall splash guard at the front, the design also included handlebar-mounted controls, forced air cooling, small wheels and a tall central section that had to be straddled.
In 1957, Piaggio decided to access the world of four wheels with the Vespa 400. With a two-stroke engine in the rear, this tiny little car was put into production in France, and Piaggio went on to make 30,000 units of this model.
Seventy years on, and now a globally recognised style icon, the Italian scooter scene is alive and well, with its distinctive buzz still the soundtrack to urban life. 
For its 70th anniversary, Piaggio made a tribute to this much-loved scooter, creating the Anniversary Edition, a special version of the original design. 
Whichever model you get pictured with, there is no practical summer transport that oozes Italian cool like a Vespa.
See more iconic Italian vehicles in our Drive Italia series