Take a look at this stunning creation from Bertone – the car from which the 'supercar' phrase was originally coined…
Photo by National Motor Museum/Heritage Images/Getty Images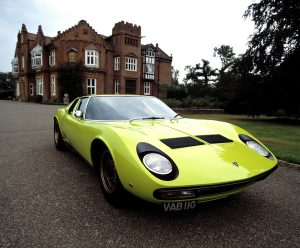 The Lamborghini Miura was originally conceived in 1965 by Lamborghini's young engineering team, Gian Paolo Dallara, Paolo Stanzani and Bob Wallace as a project during their spare time. 
As a radical departure from founder Ferruccio Lamborghini's preference for powerful, front-engined grand-touring cars, the young development engineers pushed on in secret against the wishes of their boss.
Initial engineering problems with fitting a mid-engined performance car with a large V12 were solved by turning the engine transversally, allowing it to fit into the extremely confined space along with a merged gearbox and differential. Bertone was tasked with styling the prototype, which was still being developed days before its debut at the 1966 Geneva Motor Show. 
Named 'Miura' after the famous Spanish fighting-bull breeder, the bull became the inspiration for the new Lamborghini badge. When viewed from the front, the Miura is designed to look like a bull with the original car's 'eyelashes' around the headlights. With both doors wide open, even the door tops with upturned frames are designed to look like the horns of a bull! 
By the end of the decade, the car's worldwide renown was firmly established when it appeared in the opening sequence of the 1969 movie The Italian Job. 
See more iconic Italian vehicles in our Drive Italia series