Say hello to this diminutive, mid-engined wedge from the 1970s with pop-up lights and targa roof…
Photo by Nick Cornwell-Menzies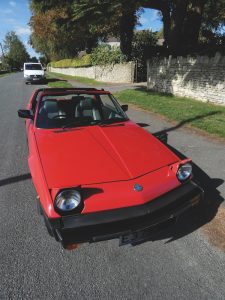 In the 1970s, the choice for those wanting to dial into frugal two-seater sports car thrills was basically limited to mainstream MGs, some Triumphs, and just a small handful of other eclectic marques.
FIAT then cleverly turned their small, front-wheeled drive 128 saloon back to front, clothed it with a pretty Bertone-designed two-seater targa-topped bodywork based on Marcello Gandini's 1969 Autobianchi Runabout, and this mid-engined piccolo Ferrari wowed the motoring world.
From the early European left-hand-drive-only examples in 1972 to the 1989 UK Gran Finale, the engine power increased marginally from 1300cc to 1500cc, and Bertone took over production from FIAT when interest waned, but other than that, little else changed.
Compact, cute and light years ahead of the competition in terms of concept, design and handling, few of these little wedges survive today. Underdeveloped, and under the radar of classic car collectors, if you can find a well sorted and appreciated X1/9, remove the targa roof, pop up the headlights and take this feisty little wedge out for a spin… You'll be hooked! After all, when Lotus's Colin Chapman wanted a car for his daughter, the car he went for was an X1/9.
With the old premise that 'power isn't everything', this mid-engine beauty will buzz along quite happily and is more than capable of keeping up with modern traffic – and of putting a smile on your face too. 
See more iconic Italian vehicles in our Drive Italia series