Originally coach-built by the Turinese manufacturer Maggiora, until their demise in 2003, FIAT's Barchetta is pretty, peppy and very Italian!
Photo by Getty Images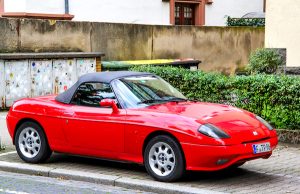 In the 1990s, the choice for a small, cheap, two-seat roadster was limited to the Mazda MX5 and this little left-field beauty from FIAT.
Developed between 1990 and 1994, the 'Barchetta', (the Italian word for 'little boat'), was based on the humble underpinnings of the Mark 1 FIAT Punto.
It was, therefore, front-wheel drive, but with a 129bhp 1,747cc DOHC engine fitted with variable camshaft timing, patented in 1970 but used here for the first time in a FIAT production car.
Initially assembled by the coachbuilder Maggiora until the company went into receivership, production resumed shortly afterwards, in the slightly revised 'Series 2' version, at the FIAT Mirafiori plant.
Revisions were limited to small alterations inside and out, including a front and rear end refresh, with the notable addition of a third brake light mounted centrally on the boot. Sublime design features like the retractable door handles and projector headlamp pods were inescapably Italian.
Only ever produced in left-hand drive by the factory, the little car sold well in Europe and a small number found their way to right-hand drive markets like the UK and Japan. Production continued until 2005 which makes even the youngest of these eclectic Italian roadsters now over 14 years old.
Beautiful, cheap to buy and increasingly rare… A modern classic in the making! 
See more iconic Italian vehicles in our Drive Italia series