It's part 1 of our new series on Italian motors and our focus is tiny, iconic, cheap to run and chic… it's the cheeky small city car everyone loves!
Photo by Getty Images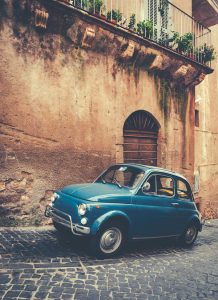 Think of those classic 1950s Italian street scenes and inevitably the image that springs to mind will include the quintessential Fiat city car: the iconic 500.
Designed by Dante Giacosa and launched as the Nuova 500 in mid 1957, as the successor to the cute 500 Topolino (little mouse), this little city car measuring only 2.97 metres from nose to tail could accommodate Pappa, Mamma, two bambini and their luggage. The design included a simple fabric sunshine roof – not as a luxury but to save on metal!
Originally powered by a 479cc two-stroke, air-cooled engine and with 'suicide doors', the 500 is considered one of the first purpose-built city cars. Spares could even be bought at the local corner shop!
Produced between 1957 and 1975, the tiny car changed little from initial concept to final run-out, although the suicide doors were dropped for safety reasons and there was a modest increase in horsepower. The only downside at the time was with the car's popularity, which came at the expense of a good slice of the Italian motorbike industry.
Firmly cemented as part of today's classic car scene, a clean, original 500 of any vintage will command a decent price, with avid interest. Find a well cared for, rust-free example and enjoy the simple, modest thrills of motoring, seemingly long forgotten with today's modern equivalents. It won't even take much garage space!