More exclusive than a Jag E-Type or Porsche 911 at the time, the Alfa Romeo Montreal remains an enigma even today…
Photo by Getty Images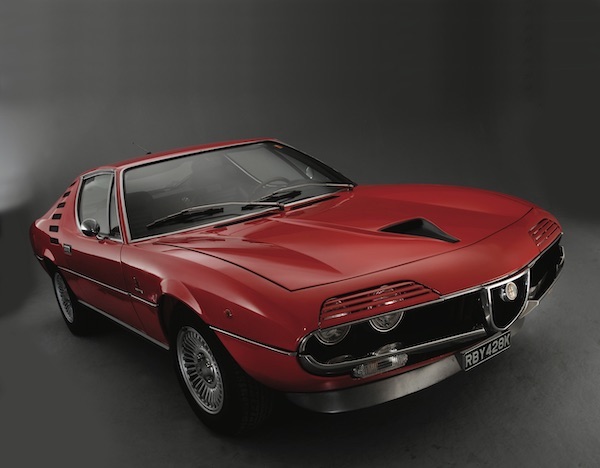 The Alfa Romeo Montreal was introduced at the Montreal Expo '67 without an official model name. The public and motoring press took to calling the car the 'Montreal' and the name stuck. Originally designed by Bertone as a mid-engined 1.6 litre 2+2 coupé, the Alfa Romeo ended up becoming a front-engined V8 'Grand Tourer'.
Among the notable design features are the car's front grill with the quad-headlamps partly covered by louvred 'eyebrows' which retract when the lights are switched on. The prominent air duct on the bonnet is actually blocked off, as its purpose was merely to optically disguise the large power bulge. 
The slats behind the doors are cabin vents, but were originally intended as air intakes for the mid-engined layout, similar to another Bertone design available at the time, namely the Lamborghini Miura.
Thanks to this model's production being split between the Alfa Romeo plant in Arese, (a comune of Milan) and Carrozzeria, Bertone's plant outside Turin, there was very little correlation between chassis, engine or production date. Just short of 4,000 units were manufactured between 1970 and 1977, with one of the two concept cars built for Expo '67 displayed in the Alfa Museum in Arese and the other in museum storage.
This rare, complex, hand-finished, Italian V8 coupé with twin-plane crank, twin overhead camshafts, dry-sump lubrication and limited-slip differential is expensive to maintain, needing specialists on hand for both bodywork and mechanicals. But doesn't exclusivity always have its price? 
See more iconic Italian cars in our Drive Italia! archive