Where Enzo Ferrari first started – Alfa Romeo, the achingly beautiful connoisseurs' choice…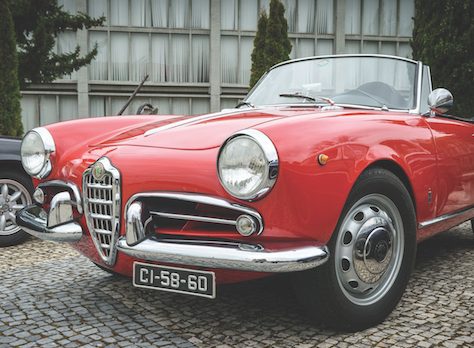 Alfa Romeo of Milan originally launched the Giulietta coupé in 1954. The gorgeous Spider
was added to the Giulietta line-up during the following year. The Pininfarina-designed convertible remained fairly similar to Bertone's coupé, but from the rakish windscreen rearwards the bodywork was unique to the Spider.
With a lowered stance and beautifully sculptured rear haunches, minimal bumper and over riders front and back, and the pretty, albeit basic, interior comfort, the simple lines are enhanced by the hood, which folds under the rear deck to completely disappear from view. 
The Spider was fitted with a modest all-alloy 1300cc twin-cam four-cylinder engine which came in two guises, 'Normale' and more powerful 'Veloce', producing 80bhp and 90bhp respectively. With either engine powering only small and light unibody coachwork, the Spider was a very capable little sports car. 
To drive, the Giulietta Spider feels light, nimble and beautifully balanced. You can easily picture yourself glancing down the curvaceous bonnet and charging along twisty Alpine roads with the engine revving happily to the other side of 7,000 rpm. 
The little open two-seater remains one of Alfa Romeo and Pininfarina's most successful collaborations to date. Even today the car would have no trouble keeping up with modern traffic, and always with that quintessentially Italian style.
Photo by Arend from Oosterhout, Netherlands – Alfa Romeo Giulietta Spider, CC BY 2.0, https://commons.wikimedia.org/w/index.php?curid=64249909
See more iconic Italian vehicles in our Drive Italia series