Rachael Martin visits Cortona to meet Sarah Marder, a film-maker whose documentary explores the changed life of this Tuscan hilltop town
Photos by iStock unless otherwise stated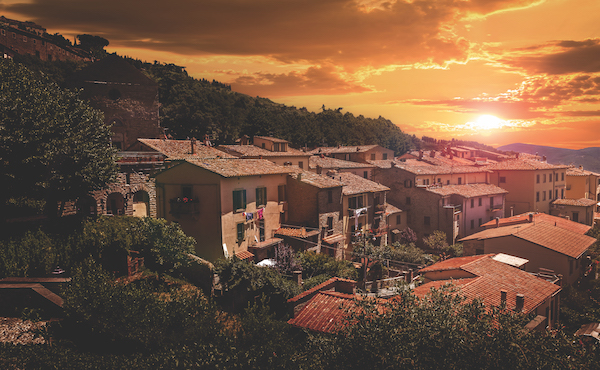 When Sarah Marder first started going to Cortona in the 1980s, she fell in love with a place and a time. At this point in her life she was a young single woman travelling around Europe, and was delighted to find such a beautiful place, so totally off the beaten track and seemingly so lost in time. Since then, Sarah has since spent over 30 years observing Cortona and went on to make a documentary about it, The Genius of a Place.
The title is an echo of words written by the 18th-century English poet Alexander Pope: "Consult the genius of a place in all." To capture changes in the community over time, the documentary was filmed intermittently over four years with Mattia Amadori, Andrea Corti and Max de Ponti from OLO Creative Farm, a film production team from Como. It's Sarah's first film, and has been shown in venues all over Italy, and in places such as Matera that shot to fame after Mel Gibson filmed The Passion there.
Not so long ago, Cortona was just another peaceful and exquisitely beautiful Tuscan village perched on the side of a hill. It's a town with an ancient Etruscan history, and a strong connection with spirituality. Generations lived out their lives there, just as generations do in places all over the world. Then in the 1990s an American writer named Frances Mayes went to live there and wrote a book about it. It was published in 1996, spent two and a half years on the New York Times bestseller list and has been translated into more than 30 languages.
Under the Tuscan Sun represented the classic escapist Italian dream, and threw Tuscany onto the map, with a result that made everything Tuscan desirable, even the sun itself. It was a promised land that offered beautiful landscapes and opportunities for house renovation, along with a good life and good food. When the book was made into a film, the dream was there for all to see.
The result was that Tuscany – and most specifically Cortona – became not only one of Italy's most desirable places but one of the most desirable destinations in the world. It spawned a huge business of Tuscan this and Tuscan that – what mattered was that it was Tuscan. A stream of international tourists started to visit. It reminds me of my own love affair with A Room with a View, and of going to Florence when I first came here years ago and all the time I could hear O mio babbino caro playing in my head. There I was on a Tuscan hill with a friend from the UK, laughing at the artists who were painting the view in an effort to preserve this image of Tuscany that had been conjured up in the collective conscious. Yet in my own way I was still painting that view. Italy has a charm that can be powerfully seductive.
Whether it's Under the Tuscan Sun or A Room with a View, cinema has the power to influence our psyche, and it's something that Sarah is deeply aware of. "Cortona had been celebrated by Virgil, Goethe and Henry James. Admittedly, at the time there were fewer people reading and fewer were travelling. Yet no written word has had the impact of a film. The piazza is the same that's always been there, but because tourists have seen it in a film they've become enchanted by it. That's the difference."
The documentary explores the effects of such mass tourism on the place, and the difficulties in dealing with unexpected prosperity. "It's not just people who are winning the lottery," Sarah says. "Places can win the lottery too, and then it's surprisingly difficult to deal with these changed circumstances."
Sarah grew up in Kansas and was familiar with agricultural life but when she first visited Cortona, she was surprised to see people still using farming techniques that harked back to a further past than she would have imagined. She then watched how the town changed as a result of tourism, and how it responded to those tourists' needs. "It's the idea of fiction changing reality," Sarah says. "For example, sunflowers are now seen as the symbol of Cortona but traditionally there weren't vast fields of sunflowers, only fields of things to eat. Yet tourists want to see sunflowers and that's what shopkeepers now put in their display windows. But this isn't the traditional Tuscany."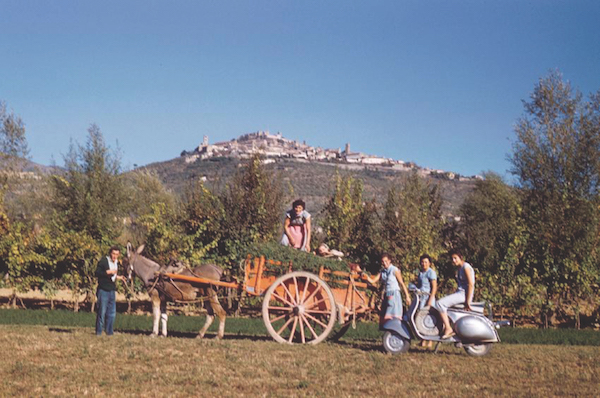 Perception and reality
It's this difference between perception and reality that Sarah explores in the film: the idea of the Italian dream with its rose-coloured filters and everything glowing, and the stark reality that often lies behind it. New initiatives have been started to try to deal with all this. First there was the Tuscan Sun Festival, a music festival co-founded by Frances Mayes and attended by Robert Redford, Jeremy Irons, Anthony Hopkins and Sting. On a more local level, a group of young people founded Cortona on the Move, a photography festival that takes place in abandoned structures within the town and has become a source of civic pride and engagement. "In a way the documentary is an expression of collective mourning for our places that change in ways that leave us concerned. That said, we took great pains to tell a story and make it as entertaining as possible. Often people tell me that it doesn't feel like a documentary, and I take that as a compliment."
In many ways The Genius of a Place is a love story, of the relationship between a woman and a place, Cortona; how she fell for its charms, first as a foreigner and then as a mother. It represented an ideal that she wanted to be part of and also give to her children. A deep awareness of the fragility of all this developed into an attention to detail and a desire to record. This genuine concern for the future has been welcomed by other places around Italy that face the same problems. "Italians know how to do things better than we do in so many ways," Sarah tells me, "but there's a self-critical attitude and fatalism that sometimes gets in the way. It's that acceptance of the idea of è così – that's the way it is, that's the way things are, which ultimately prohibits change."
Tourism in Cortona
I visit Cortona for the first time on Easter Sunday. I'm struck by the beauty of the place, but hit by the tourism. Quiet Tuscan villages still exist, and it is immediately apparent that Cortona is no longer one of them. It's a place that's been taken over by others. It reminds me of going to the Cinque Terre. Yet tourism is essential if people are going to survive. As Sarah says in her film, "Cortona is experimenting with ways of keeping its body fed and its soul alive."
We sit drinking our coffee and agreeing about how terrible the pollution levels are that day in the bar in Milan. "If we all find ways to take care of our little places in the world, collectively we can take care of the world," Sarah tells me. "This is my little contribution."
In many ways, Cortona's story is a positive one, and in this sense the film empowers people to believe that they can make change. People who live in communities that work together can make change. It's easy, as you're sitting there in the heart of a big city, to forget this and to lose sight both of nature and of the restorative power of the earth. The Genius of a Place explores how our own personal well-being depends on the well-being of the place in which we live. I think of the pollution in Milan and of all the people living there who suffer from bronchial and respiratory conditions. And it's not just in Milan but all over northern Italy. Wealth has come, but there is a price.
Our relationship with 'place'
The film raises important questions regarding place, our relationship to it, our understanding of a place and how best to respect a place. As Sarah tells me, "Nello knows everything about sustainability." Take water, for example. He grew up alongside his sister Tita and brother Modesto with a respect for water. Water was only used for plants that produced food. Nowadays, water in Cortona is used to fill numerous swimming pools. The swimming pool is a requirement of any  self-respecting Tuscan villa, yet there will be a price. Global mobility is literally destroying the earth, whether it be villas in Tuscany with swimming pools, cruise ships in Venice, train journeys through the Cinque Terre or boat trips around Sardinia.
As I ate dinner that evening with friends, I was surrounded by voices from all over the world. After dinner, we walked back to our cars along the main street where music was coming from a bar. "That's where the locals go," my friend told me. The idea felt almost incongruous amidst the picture-perfect streets and plentiful restaurants. Who knows what the future will really hold for the town's young?
In the Cortona of the past there were no Tuscan suns, merely hard work and people who lived out their lives to the seasons and the land. Sustainability was built upon a close relationship with the earth. "È così la vita," Nello says towards the end of the film. "That's the way life is." And this is what The Genius of a Place reminds us.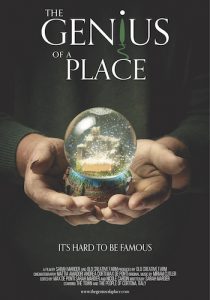 More information
The Genius of a Place is Sarah Marder's first film. It studies the development of tourism in Cortona over the past 30 years, and the effects it is having on this ancient Tuscan town.
To rent or buy the film, visit the website at www.thegeniusofaplace.com
Tags:
Cortona
,
Culture
,
Italian Film
,
Tuscany