In the post-war years, young Totò spends his spare time at the local cinema, where Alfredo the projectionist teaches him what he knows about film, love and life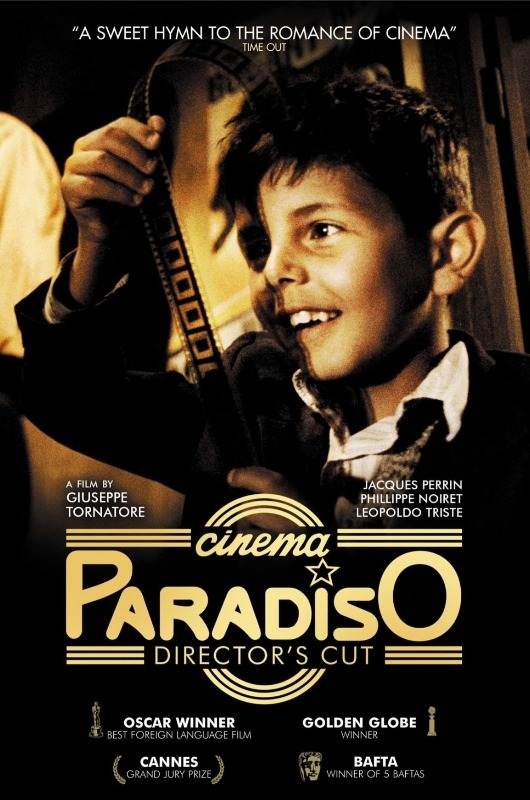 It was a flop when it first came out but now, more than 25 years since its initial release, Giuseppe Tornatore's film is considered a masterpiece…
The story is about a film-maker who recalls his youth and how he came to fall in love with a girl and with the art of film. It isn't complicated; it is autobiographical, heavily nostalgic, at times almost mawkish, and yet it is undeniably endearing. The boy, Totò (Salvatore Cascio) is loveable; his mentor, Alfredo, played by Philippe Noiret (who returned to play the poet Pablo Neruda in Il Postino) was an accomplished master of his art; and the relationship that develops between the old-timer and the youngster is captivating.
Now more than a quarter of a century old (it first came out in 1988) the film has become an icon of Italian cinema. And the works that followed in the decade after it – Mediterraneo (1991), Il Postino (1994), Life is Beautiful (1997) – while more than noteworthy in themselves, certainly had a helping hand by coming from the same country as Cinema Paradiso.
So why did it flop? Perhaps it was just the editing – the initial Italian release was half an hour longer than the international re-release (re-titled as Nuovo Cinema Paradiso), which was an immediate hit. Perhaps foreign audiences appreciated this brand of Italian cinema more than the Italians did. Either way, it is now more than a film: it is the pre-eminent modern Italian film.
Tags:
Cinema Paradiso
,
Film
,
Italia
,
italia icons
,
Italian Movie
,
Movie