Joe Gartman pays a visit to the home of the Brownings and reminds us of their path to love and fame… 
The courtship of Elizabeth Barrett and Robert Browning may be the most thoroughly documented in history, because it was conducted almost entirely by letter. And Robert was certainly a very impetuous wooer; in his very first letter to her, after reading her poetry and without ever having met her, he wrote "I do … love these books with all my heart – and I love you too." She, a reclusive invalid in her father's house, was reluctant. In fact, five months passed – months filled with daily letters – before Robert was finally allowed to visit her.
Edward Moulton Barrett, Elizabeth's father, was a jealous domestic tyrant, demanding absolute filial obedience from his children; and she, with a poet's insight into the human heart, understood the fear of loneliness that animated him. She knew he couldn't change. After she decided to elope with Robert, she wrote: "May your father indeed be able to love me a little, for my father will never love me again."
So, when Elizabeth quietly left her Wimpole Street home on 12 September, 1846, to meet and marry Robert Browning at St Marylebone Parish church, she was striking a blow for her own libertà. She might have objected that she was striking a blow for love, rather than freedom; and who can read her Sonnets from the Portuguese without admitting that she loved Robert Browning?
But the wedding was the first real step she took to escape from her father's despotic rule. Even then, it was a rather tentative step: she returned home after the ceremony, and remained there a week before she and Robert secretly left London, en route to Italy.
Their first destination was Pisa, reached after a difficult journey by coach, ship, and railway. Elizabeth's mysterious infirmity was nonetheless real, and she arrived in the city bruised and exhausted from the trip. Robert found an apartment for them near the Campo dei Miracoli. There, over a mild winter, Elizabeth's health improved significantly, though she suffered a miscarriage in the spring.
She recovered, however, and they undertook a tour of northern Italy; and in Florence, in 1847, they found the home they would share until Elizabeth's death in 1861: a roomy flat on the piano nobile of the 16th-century Palazzo Guidi, on Piazza San Felice, near the Pitti Palace. Elizabeth named their flat "Casa Guidi".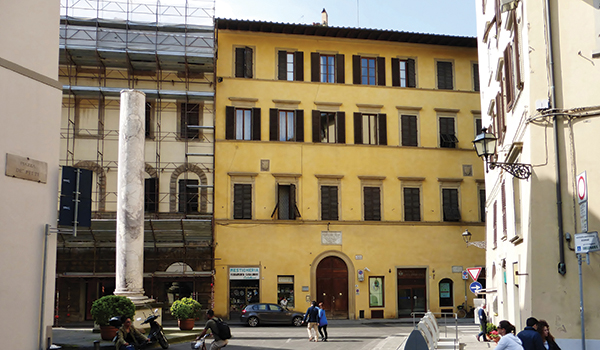 Here they both wrote some of their most important works, including Elizabeth's Casa Guidi Windows, in which she figuratively watched, through her home's windows, the rise and fall of Italy's struggle for independence.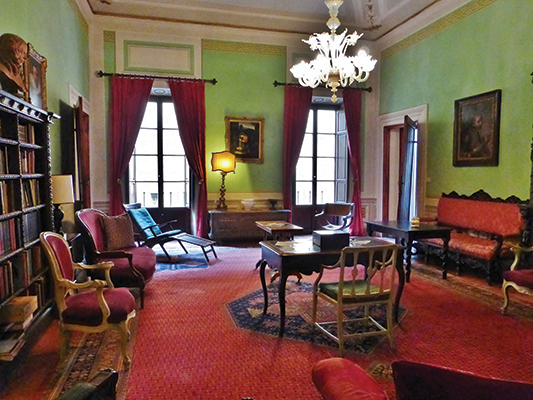 Here she also wrote a very successful long poem, the romantic Aurora Leigh. Robert, meanwhile, composed Men and Women, his great collection of "dramatic monologues", including such influential poems as Love among the Ruins, Fra Lippo Lippi, and A Toccata of Galuppi's. And here, too, they welcomed their only child, Robert Barrett Browning, whom they called "Pen".
Casa Guidi became a meeting place for expatriate British and Americans, such as William Wetmore Story, the sculptor, and his wife, Emelyn; the poet Walter Savage Landor; Anthony Trollope's mother, Fanny, who was also a well-known author of the time; and even Nathaniel Hawthorne.
Although Elizabeth enjoyed a productive and happy life in her beloved Florence, her health remained fragile, and began to fail by 1858. Her lungs, which had been weak since her teenage years, were subject to frequent respiratory infections. In June of 1861, debilitated by the stress of a difficult trip to Rome and back, and distraught at the death of her sister Henrietta, she caught a bad cold, possibly while sitting in the draught from a window.
Within days she was struggling to breathe, and, despite mustard plasters and other nostrums of the day, her condition worsened, until at last, on 29 June, she lapsed into semi-consciousness. Robert asked her if she knew him.
"My Robert – my heaven – my beloved," she replied. He asked if she was comfortable. "Beautiful," she said, and slept. She seemed to struggle for breath, and Robert felt she needed to be lifted to a better position. He took her in his arms, and felt a movement in her chest, as if she tried to cough. Her head fell against him. Their Italian maid, Annunziata, who was in the room and watching Elizabeth's face, suddenly cried out "Quest' anima benedetta è passata!" ("This blessed soul has passed away!")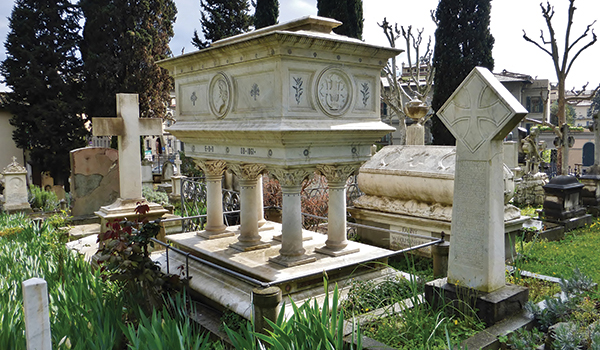 Elizabeth was 55 years old when she died. Her tomb is in the English Cemetery of Florence. Robert never remarried. He died in Venice in 1889, and is buried in Poets' Corner, Westminster Abbey. 
About the writer
Joe Hartman writes about travel, history and culture, and divides his time between the southwest US and Europe. Learn more at www.joegartman.com.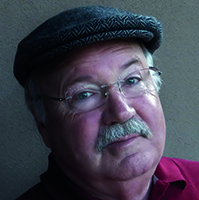 SaveSave