Italian fashion brand Benetton is now 50 years old, and it is still campaigning for a better, more caring, more sustainable world, writes Gilly Turney. But it is no longer out to shock; but taking a gentler, more mature approach. The year 2016 is going to be all about equality for women across the globe…
The distinctive green and white United Colors of Benetton is one of the most recognisable logos in the world; a symbol of style, quality and caring. And it is true that the company is just as proud of its ethical stance as it is of its reputation for cutting-edge knitwear design.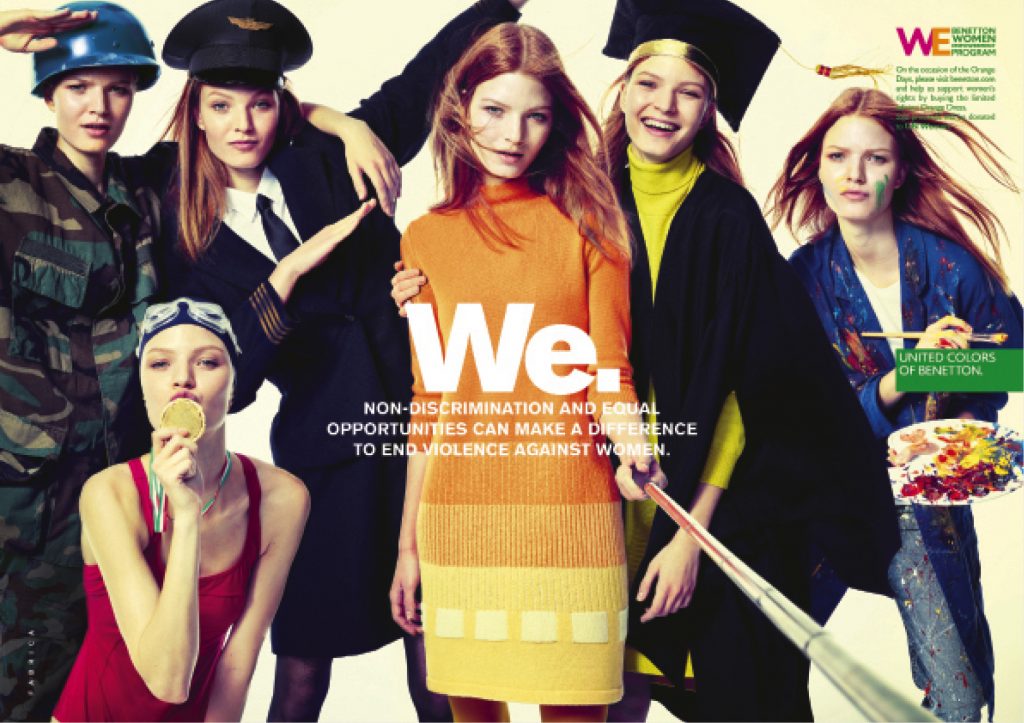 Benetton considers the welfare of the human race and the environment as being as important to its work as designing fashion, aiming "at all times to combine economic growth with social commitment, competitiveness, care for the environment, business and ethics". To this end, "the people – their moral values, daily input and desire to look to the future and be the best – are central to every plan the company makes and every action it takes."
Championing causes
Over the years Benetton has championed many humanitarian and environmental causes using its position as a leading fashion brand to highlight inequalities in the world, bringing them global attention through high profile, provocative, advertising campaigns.

Who can forget the shocking images of their notorious advertising campaign of the '80s? A new born baby still attached to its umbilical cord, the bloody uniform of a soldier killed in the Bosnian war, the ravages of an Aids victim….
Masterminded by world-renowned photographer Oliviero Toscani, who created the first of the multi-racial campaigns with the United Colors of Benetton slogan, which the company has used as its main slogan ever since, the images may not have related to the company's products, but the message hit home all the same.
Who can forget the shocking images of Benetton's notorious advertising campaign of the '80s?
Having been given total artistic freedom, Toscani's arresting billboard campaigns caught the public's and media's attention, but as the subject matter became more extreme, shoppers became disenchanted with the brand, and in the mid-'90s, Toscani and Benetton parted company.
In the early 2000s the Food for Life campaign, launched in conjunction with the World Food Programme, highlighted the problems of hunger; and was followed in 2004 by the James and other Apes campaign, made with the support of the Jane Goodall Institute, founded by the renowned primatologist, a committed defender of the environment and a UN Messenger of Peace.
The year 2008 saw Victims; an image of a Tibetan monk praying with a Chinese soldier was, Benetton said, "an attempt to make a small contribution to dialogue and engagement between Tibetan and Chinese people".
Then, in 2011, another controversial series of adverts. The Unhate campaign featured world leaders kissing each other – Barack Obama and Hu Jintao of China, Pope Benedict XVI and Egypt's Ahmed el-Tayeb, Grand Imam of the Al-Azhar Mosque in Cairo – to illustrate that love is not that far from hate. Its objective: to fight the culture of hate with projects set out from the social role of art and self-expression by educating people to be tolerant, and involving young people in "at risk" areas, from Brazil to India, and even to New York's Puerto Rican neighbourhoods.
A gentler approach
Now at the age of 50, the company has changed direction, adopting a gentler approach with the launch of two new campaigns aimed at improving the lives of women around the world, entitled A Collection of Us and The Benetton Women Empowerment Program.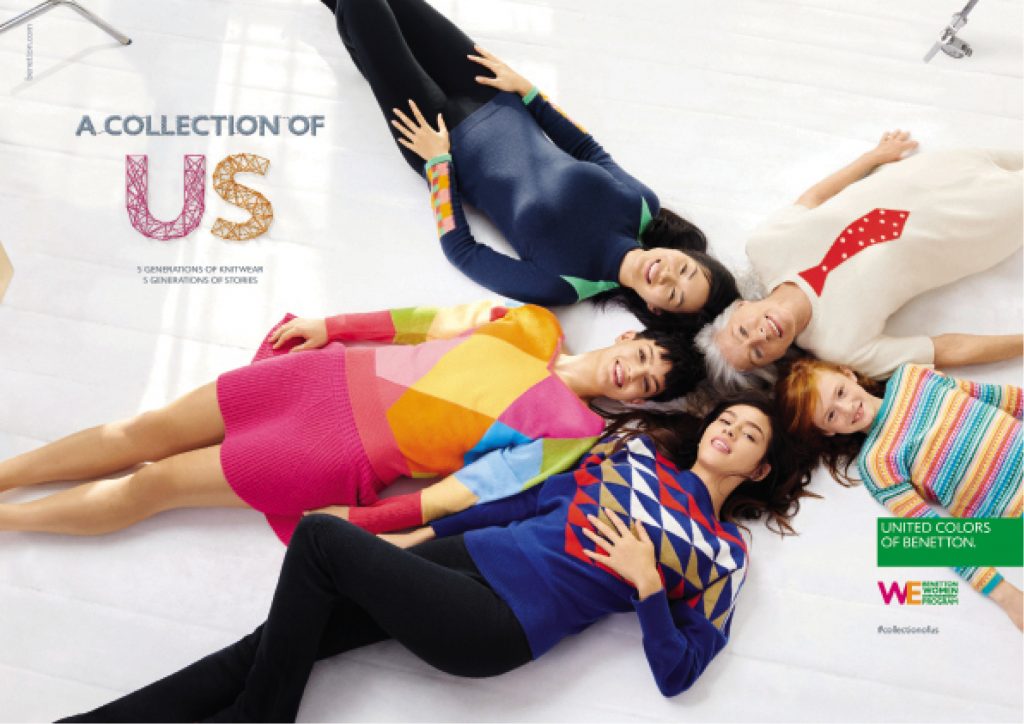 A Collection of Us aims to inspire women by telling other women's stories with five female models from various backgrounds and ages, each carrying a message of emancipation and empowerment. The video, released across social and traditional media, is suitably low key with the women taking turns to interview each other seated on Scandinavian style chairs.
Referencing their strong knitwear heritage, four capsule collections inspired by the past five decades are being released to mark this campaign and the anniversary. Each has a different theme – heritage, technique, colour and performance, their first sportswear range – and includes archive designs as well as the style and colourful wit that is synonymous with the brand. The final collection drops into stores in April.
It's an altogether more subtle approach. Speaking at the company's Treviso headquarters, the chief product and marketing officer, John Mollanger, said, "I'm not sure that it's part of our DNA to be shocking. Rather than be shocking, what we would like to be today is attitudinal, emotional and interesting.
"There was a time in the 1980s and 1990s when advertising's main mission was to create awareness with shocking creatives, but I believe it was a moment in time. We are committed to making clothes with a cause, but I don't think that we want to commit to being shocking. We have matured and the world has matured."
Long-term initiative
The Benetton Empowerment Programme is a long-term initiative that supports projects and actions aimed at targeting important key priorities for women, following the Sustainable Development Goals (SDGs) set by the United Nations for 2030. These include sustainable living, non-discrimination and equal opportunities, access to affordable and quality education, healthcare for women and girls, and the elimination of all forms of violence against women.
Much has been done for women's rights worldwide but there is still a great deal to do. Of all the women alive today, some 250 million were married before the age of 15, half the world's women are employed in informal or unpaid jobs, some 31 million of primary school age are out of school, and every two minutes one dies from causes related to pregnancy or childbirth. The first initiative, the Sustainable Livelihood project, is a five-year, two million euro investment aimed at giving a sustainable livelihood to women in the ready-made garments sector.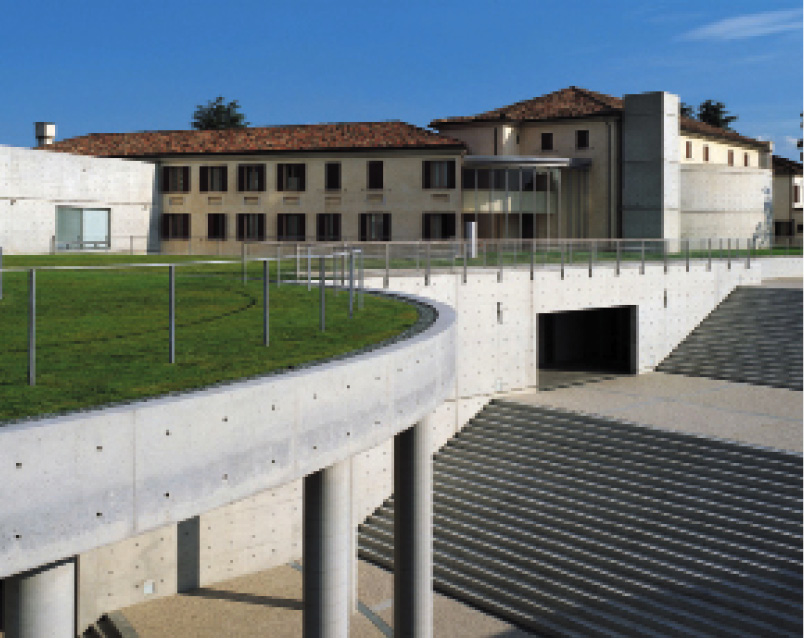 Based in Pozano, about 30 kms from Venice, Benetton has some 5,000 stores in the most important markets around the world. Established in 1965, the company is named after its founder, Luciano Benetton. The eldest of four children, he was a 30-year-old salesman in Treviso when he saw a market for colourful knitwear and sold his younger brother's bicycle in order to buy a second-hand knitting machine.
His initial small collection of sweaters received such a positive response in local stores in the Veneto region that he asked his sister, Giuliana, and two younger brothers, Gilberto and Carlo, to join him, and in 1965 the 'Benetton Group' was formed. With Luciano as chairman, Gilberto in charge of administration, the youngest brother, Carlo, running production, and Giuliana as chief designer, the family opened its first store in nearby Belluno, followed by its second, the first outside Italy, in Paris, three years later.
The Group expanded over the next 30 years in a collaboration with former Atalanta footballer, and later club president, Antonio Percassi. A retail entrepreneur, Percassi headed the developments of United Colors of Benetton and its sister brand, Sisley, both in Italy and abroad.
Although united in the Benetton Group, the brands are quite distinctive. United Colors of Benetton clothing collections for women, men and children, offer a style universally recognised as encompassing design, taste, a sense of beauty, and reflecting the Italian style of the brand. Sisley has a strong personality, is sexy, unconventional, edgy, with a powerful contemporary aesthetic.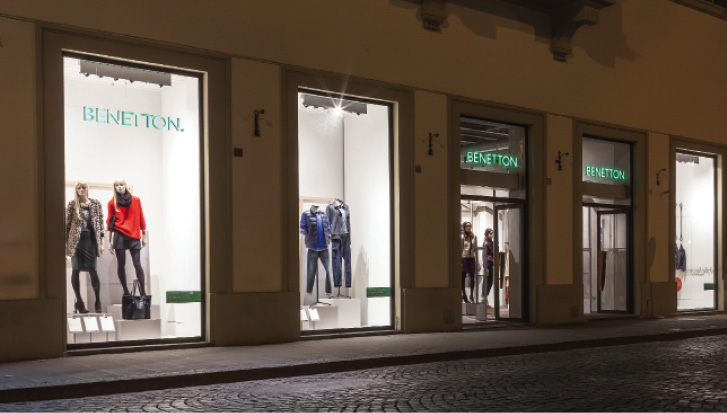 Over the past few years Benetton has seen a fall in its consumer spending and popularity. Following a profit warning and a slump in the company's share price caused by Europe's economic problems, the family delisted the company from the Milan stock exchange in 2012. After spending 26 years in public hands, the family bought back the 33 per cent they didn't own, with Alessandro Benetton taking over as president from his 76-year-old father.
Alessandro set about overhauling the business, splitting it into three parts: manufacturing, real estate – including a collection of 18th century palazzi across Italy – and the Benetton brand. Then, just two years later, he declared himself a "detonator for discontinuity" and left the company to be run entirely by directors from outside the family for the first time.
The family is now focused "on being a shareholder," says Mollanger. "They do not interfere but they offer support. For example, our latest campaign has been informed by the Benetton family.
"You can read all the business books available but it is not the same as talking to Giuliana and having that insight," he says of Luciano's sister, who inspired the company with her colourful knitting.
The legacy lives on
Founder Luciano Benetton sold his younger brother's bicycle in order to buy a second-hand knitting machine
Whatever happens in the future, the family legacy lives on: in Fabrica, the beautiful 16th century Pozano buildings transformed and enlarged into a thoroughly modern space by Japanese architect Tadao Ando, with its colonnades and floating lawn, where designs and campaigns are spearheaded; in a nearby former knitting factory renovated and now housing an archive of past collections; and in an aircraft hangar-sized room with huge billboards from the group's Unhate campaign and racing cars from the family's 20-year sponsorship of Formula One.
Of the company's new gentler image Mollanger says, "Shock tactics will work if you want to be known for your advert campaigns, but we don't want just that. We want to be known as Benetton."