Each December, the terrifying costumed figures of Krampus paint South Tyrol red with their extravaganza. Marina Spironetti attends a traditional parade of the monsters in Castelrotto
Photos by Marina Spironetti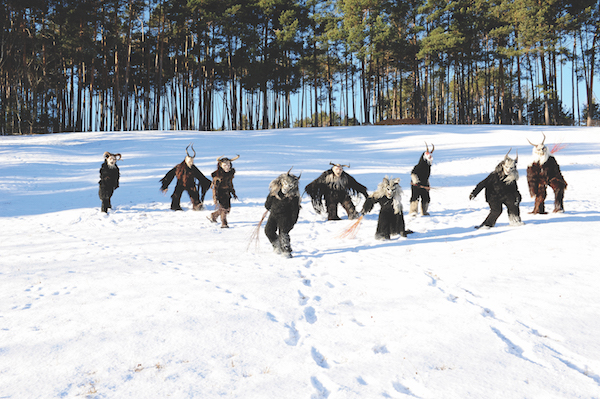 If your idea of a typical Italian Christmas involves getting dressed up as Babbo Natale for the fun of the little ones in the family, a visit to South Tyrol in December might come as something of a culture shock. The postcard-pretty Alpine town of Castelrotto – aka Kastelruth in German, as everything is strictly bilingual at this latitude – has just turned into a mini winter wonderland when I arrive there on a rather cold early December day. Visitors are welcomed by the endless temptations of objects and souvenirs sold in the little wooden chalets of the Christmas market, while the spirit is lifted with gingerbread biscuits and steaming hot cups of Glühwein, the local version of mulled wine.
I'm in full Christmas spirit, when I notice some odd-looking costumed figures gathering. It is a peaceful invasion of horned, demon-like masks dressed in thick goat and yak coats descending from buses coming from as far as Austria, Bavaria and Slovenia. They are the so-called Krampus, and they are getting ready for the traditional parade – the Krampuslauf, literally 'Krampus run'. The lead-up to Christmas in South Tyrol, a region that gravitates more around the Germanic world than the Mediterranean spirit, suddenly reveals its dark side.
The Krampuslauf is not only a tradition of Castelrotto – similar parades take place almost simultaneously in many mountain towns of the former Habsburg empire. "Krampus are related to ancient rites associated with the change of the seasons and the arrival of winter," explains Markus Rauch from the association Die Kastelruther Tuifl, which is behind the organisation of the parade.

Pagan creation
Originally, Krampus was a purely pagan creation, and though we can't be sure, it may well pre-date Christianity. The legendary figure shares characteristics with similar pre-Christian masked figures as well as with other scary creatures from Greek mythology, such as satyrs and fauns. He later got grafted onto Christian tradition, finding his place in the St Nicholas narrative as his creepy counterpart, in a kind of Christmassy yin-yang principle. This is why most of the parades are held on or near December 5, known as St Nicholas' Eve, or Krampusnacht.
"These days Krampus punishes the children who have misbehaved, while St Nicholas brings treats and gifts to the good ones," continues Rauch by way of explanation.
Although the origins of Krampus are lost in the mists of time, the tradition of Krampus parades is a relatively new one, and exists thanks to the effort of local cultural associations like Die Kastelruther Tuifl.
"We started back in 2011," says Rauch. "There are almost 30 members in our group, aged from 18 to 52, including two women. Children these days are more fascinated than scared and they are also eager to take part, which is why we also have a youth association for the under-18s. After all, this is our final goal – passing our traditions on to the new generations."
The elaborate Krampus masks worn during the event are beautiful pieces of folk art. It is no surprise that the old ones often end up behind glass in folklore museums. No two are the same, just like the people behind them. Traditionally, they are made of wood, hand-carved by skilled craftsmen, with the exception of the horns, which can be real or made of resin. Most of these specialist artisans are based beyond the border, in Austria, although there are two or three craftsmen in Alto Adige as well.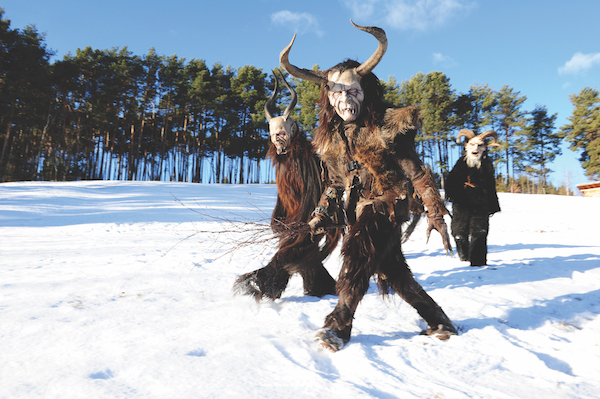 Winter spirits
Darkness has fallen and the streets of Castelrotto are invaded with winter spirits of all shapes and temperaments. In some cases, traditional attire has given in to rather questionable modern accessories such as led lights. Some of the groups improvise, others have an elaborate choreography; the occasional bonfire lights up the night. I watch them parading down the streets – growling, half dancing, half running. There is definitely an unsettling side to it. Not to mention the whips carried by many of them and used freely on adult and teenage spectators.
I am caught by surprise. After experiencing first-hand how painful it can be on your legs, I quickly climb up a little garden wall, gaining a safer vantage point. When my limbs are about to get frozen, I beat a retreat and content myself with a cup of mulled wine, leaving the loud crowds of Krampus to their mischievous celebrations. They will party well into the night. Nobody does Christmas quite like them, after all. 
More information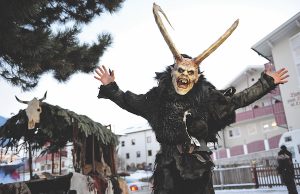 Krampus parades take place around Trentino Alto Adige, particularly in Bolzano province, including Laces, Silandro and Termeno, Prato allo Stelvio and Brunico. The largest event in 2018 kicked off on the 7 December at 6pm in Dobbiaco, with over 600 figures taking part. In Castelrotto the event is held every other year – the next is December 7, 2019. For more, check the official page for Alto Adige, and the Seiser Alm website, which focuses on the Alpe di Siusi area.