One year on from her own wedding in Venice, Sara Scarpa offers some advice on the do's and dont's of tying the knot in the City of Love. Photos by Iain Reid 
For me there is no better place to take your vows than in beautiful Venice. A wedding in the magical atmosphere of this captivating city is like a fairy tale that you will never want to come to an end. And the truly unforgettable memories made in this dreamy backdrop will stay with you and your guests forever.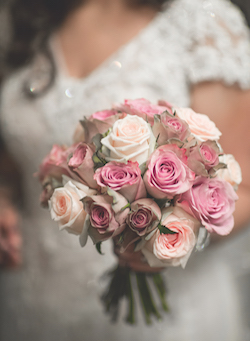 Getting married in this unique floating city just over a year ago was like being dropped into the middle of a fairy tale. As a Venetian, for me the city still retains a magical atmosphere; romance, love and seduction still run through this old lady. So I can't imagine what it must feel like for someone who has not lived here or who may have only visited occasionally!
It is widely known that Venice is one of the most romantic cities in the world – picturesque canals, quiet calli, timeless art, stunning architecture and intimate gondola trips – sometimes complete with a serenade from your gondolier! It surely is the perfect place for a dream wedding.
Of course, there will be a bit of added work if you are organising your big day from the UK, so you will need to plan well in advance to make sure you get your paperwork ready and everything booked – venues, accommodation for the guests, photographer, taxi boats, make-up artist and hairdresser, etc. – but it will definitely be worth it!
The Venue
If you have fallen in love with the city and its surrounding islands and have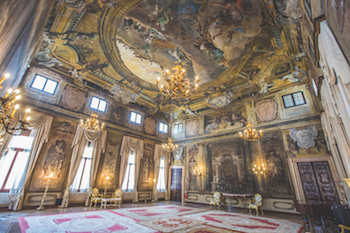 decided to descend on this magical place for your wedding, you will find the choice of venues extensive. This can be quite confusing and rather overwhelming, but don't let it put you off.
Being spoilt for choice here means that whoever you are and whatever your budget, Venice can be yours! As a bride you may dream of arriving at your favourite church or palace on a beautifully decorated gondola. Or you may wish to be the centre of attention with the most beautiful backdrop in the world, St Mark's Square. Or you might want to opt for something completely different and have your day played out away from the crowds, on one of the tranquil islands in the lagoon.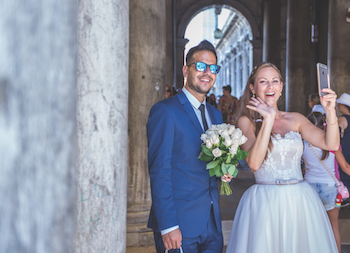 If you are having a civil wedding, these are normally celebrated in the beautiful Palazzo Cavalli, the historical town hall, or in the stunning Ca' Vendramin Calergi – both overlooking on the Grand Canal. If you have chosen a religious, Catholic wedding, you will be spoilt for choice with the numerous spectacular churches, from the most impressive, such as Saint Mark's Basilica, to the most intimate, such as San Nicolò dei Mendicoli. And although Italy is known for its strong Roman Catholic faith you can still have an interfaith marriage, but you should set aside plenty of time for looking into this with both the church and the reception venue.
The Reception
For your reception venue you could choose an island, an elegant historical palace, a fantastic restaurant, a panoramic terrace facing the Grand Canal or a pretty secret garden. All these places were very tempting to us when we were trying to decide what to choose for our big day. But before setting your mind on a specific venue, first I would advise you to be sure how many guests you are wanting to invite, as depending on your numbers, some places will be excluded. This is because many Venetian palaces can only welcome a certain amount of guests.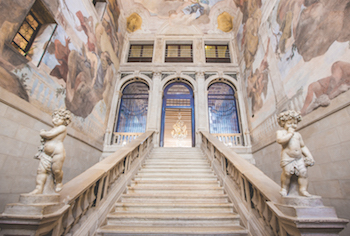 Second, if you love music and want some dancing at the end of your party, you will need to check this with the venue. Many Venetian palaces do not allow dancing in order to protect the original pavimenti veneziani (Venetian mosaic floors) which are in some instances centuries old. Finally, you should decide whether or not you want to use your own favourite catering company, because some places will provide their own service and this may or may not be flexible.
Also remember to take into consideration the fact that in Venice you can only move around by boat or on foot. So the closer your ceremony venue and reception venue are to each other the better. If they are not nearby, then you will need to book private taxi boats well in advance and consider the extra costs.
Obviously, trying to plan everything from abroad can be very challenging, but luckily there are good wedding planners and some specialised companies based in Venice to help. They can assist you with all the organisation, from the purely bureaucratic details, including all the procedure and paperwork which accompanies getting married in a different country, to the most minute details about what you want to happen on the day – everything to make your dream wedding come true.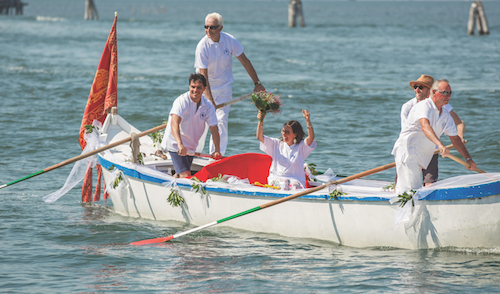 The Italian Way
As you might know, Italian weddings are quite different from British weddings. In Italy food is, as usual, a big thing! After the wedding ceremony, be it religious or civil, everything is about the food and drinks.
While the bride and the groom have hundreds of professional photos taken in the picturesque backdrops in the city, their guests make their way to the venue and the ritual of the buffet can start. The buffet will last for a couple of hours until the newly-weds finally arrive at the venue to toast with their guests with a glass of prosecco or a Bellini.
They then head to a very rich sit-down meal which takes up most of the afternoon or evening. Obviously, the delicious dishes are washed down with a few glasses of excellent wine! At the end of the meal (after multiple courses which have already followed the dozens of starters at the initial buffet!) a refreshing sgroppino made with lemon ice cream and prosecco is served to help digestion – just in time to squeeze in a huge slice of cake!
There are no speeches at Italian weddings, so when my husband Iain gave his speech at our wedding last year, our Italian guests were very surprised. At the end of the meal, in accordance with an ancient tradition, the couple hand out small favours offered as keepsakes for their guests. Favours are traditionally five sugared almonds (confetti) wrapped in tulle or satin tied with pretty ribbons in assorted colours, and also a very small object (normally silver, crystal or porcelain) to go with them. The five confetti symbolise health, wealth, happiness, fertility and longevity. After handing out the bomboniere (favours), the couple start the dancing (if the venue allows it) before everyone else joins in.
As Peggy Guggenheim once observed, being in Venice is quite dangerous as you might fall in love with the city itself. So watch out as you will most probably fall in love with Venice – but don't forget about the person you are marrying!
---
Weddings in Italy
Requirements for British nationals resident in UK
Please bear in mind that these are just guidelines. Please do not take this as professional legal advice. Consult the Italian Embassy or Consulate for any specific information.
There is no official residency requirement for civil ceremonies in Italy, but you will need at least two witnesses over the age of 18 and an interpreter, regardless of weather or not you speak Italian.
When you have decided your wedding date, you will need to contact the Town Hall of the Italian town where you would like to get married to check availability and to make sure that you have all the necessary documents.
Unless you have hired a professional wedding planner to organise it for you, you will, of course, need to do all this yourself.
These are the main steps to follow: 
1 Obtain a Certificate of No Impediment (Nulla Osta), essential for a wedding in Italy, which you request from your local register office. For more details: www.gov.uk/government/publications/nulla-osta-application-pack-for-marriages-in-italy
2 Make a statutory declaration before a solicitor or public notary in the UK.
3 Legalisation of your documents: the Foreign & Commonwealth Office needs to certify your statutory declaration and CNI as genuine.
4 Get a translation of your Certificate of No Impediment (Nulla Osta) translated by a translator based in Italy and sworn before the Italian courts or an Italian Justice of the Peace.
5 Send all the documents to the town hall where you will get married.
Useful contacts
For general official advice – www.gov.uk/marriage-abroad
For advice about legal document translation – www.leplaw.co.uk