Was it really 26 years ago when the Three Tenors, José Carreras, Plácido Domingo and Luciano Pavarotti sang together in Rome for the first time?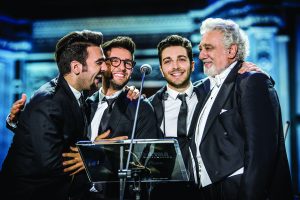 As their homage, opera trio Il Volo, have just released a 22-track CD Notte Magica – A Tribute to the Three Tenors, a special live recording of their one-off concert in Florence's Piazza Santa Croce this summer featuring maestro Plácido Domingo, one of the original Three Tenors.
We have 5 Notte Magica CDs to give away this month – to enter, email your name and address to italia@anthem-publishing.com with the header 'Il Volo'. Entries close 10 November.
Competition
,
Comps