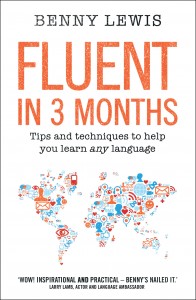 The Missing Ingredient: Passion
Benny Lewis, author of Fluent in 3 Months (published by Collins) tells us about what made him passionate about learning a language, and how this can help you to find what really motivates you.
In my new book, Fluent in 3 Months, I focus on independent learners, rather than those sitting in classrooms. Even if you are taking a classroom course, whether it is taught efficiently or not, you need to be an efficient learner in your free time. When you love learning a language enough to have it fill your free time, then your passion can truly blossom. You can find many new motivations beyond extrinsic ones.
This is not to say that these factors automatically lead to failure; success in your career, for instance, can be a very effective motivating factor. The catch, however, is that these side benefits can't be the main motivators for you to learn a language if you want to learn the language better. You must intrinsically want to speak that language for the language or culture itself.
When I eventually rebooted my attempts to learn Spanish, I put aside these superficial reasons – that someday Spanish might make me impressive or perhaps even more employable. Instead, I started to learn Spanish specifically to use Spanish with other human beings. This made all the difference. I genuinely wanted to communicate in Spanish and make friends through their native tongue. I also wanted to get to know Spain beyond the superficial experience I had had until then.
I was no longer motivated by benefits I might get months or years in the future, or by the idea that speaking Spanish would 'make me cool'; I was genuinely passionate about learning the language in order to communicate directly with and understand other people through reading, watching, and listening to Spanish.
So take a moment to ask yourself what your motivation for learning a new language is. Are you learning a language for the 'wrong' reasons? Even if you indeed need the benefits that result from learning a language, like advancing your career, can you mentally put aside the long-term benefits and embrace learning the language for the inherent beauty of it and the many doors it will open for you? If you change your thinking in this way, all the side benefits will come, but they will come much faster, because your new focus will make learning a language happen more quickly and efficiently.
The missing ingredient, and the single thing I have found that separates successful language learners from unsuccessful ones, is a passion for the language itself. For successful language learners, acquiring a new language is the reward.
Benny Lewis is a polyglot and tech-nomad. His new book, Fluent in 3 Months: The simplest way to learn any language, is published by Collins: http://www.collins.co.uk/product/9780007543922/Fluent+in+3+Months
Tags:
blog
,
Learn Italian