The $450m sale has of a da Vinci painting billed as 'biggest discovery of the 21st century has smashed records.
Salvator Mundi, the long-lost Leonardo da Vinci painting of Jesus Christ commissioned by King Louis XII of France more than 500 years ago, has sold at Christie's in New York for $450.3m, including auction house premium, shattering the world record for any work of art sold at auction.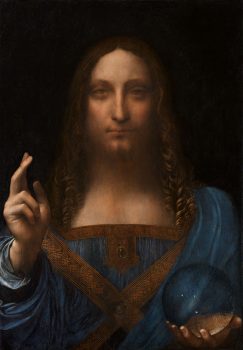 The sale generated a sustained 20 minutes of tense telephone bidding as the auctioneer Jussi Pylkkanen juggled rival suitors before a packed crowd of excited onlookers in the salesroom. At one point, Pylkkanen remarked: "Historic moment, we'll wait" as the the bidding went back and forth, pausing at just over $200m as it rose to break the auction record.
At one point, a telephone bidder jumped in, pushing the price from $332m to $350m. The bidding then resumed: $353m, $355m. A jump to $370. A jump to $400m.
"Thank you all for your bidding," said Pykklanen. "Four hundred million selling here at Christie's. The piece is sold." The salesroom then erupted in cheers and applause.
The auction house would not reveal the identity of the buyer or even the region from which they came.
Christie's CEO, Guillaume Cerutti, said he did not know whether the buyer would reveal themselves. "I cannot say if he or she will want to be public."
At the height of the auction, as many of six bidders were in play. The abrupt $20m and $30m jumps in price were indeed unusual, Cerutti confirmed.
"They reflected the importance of the painting and that some of the bidders were conscious that the price would go higher than their bids. Probably, they knew there was room before the end of the competition."
"They wanted to get the job done quicker, but it still took a long time."
The sale places Salvator Mundi as the highest-priced work sold privately or at auction, including Pablo Picasso's 1955 Women of Algiers (Version O), sold for $179.4m, and Amedeo Modigliani's 1917-18 Reclining Nude, sold for $170.4m. Record private sales are believed to include $250m for a painting by Paul Cézanne and $300m for a Paul Gauguin.
After the sale, Pykklanen said the sale had been his "ultimate privilege.
"It's the zenith of my career as an auctioneer. They'll never be another painting that I shall sell for more than this painting tonight."
This story was originally found on the Guardian and has been adapted.
SaveSave
SaveSave
Tags:
Art
,
Leonardo da Vinci