Three people were arrested overnight and a minor detained following a raid against a suspected jihadist cell in the heart of Venice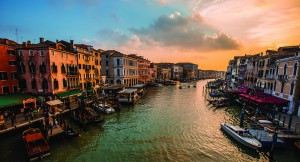 Twelve raids were carried out in Venice's historic centre, as well as in nearby Mestre and Treviso, police said in a statement.
Police had reportedly had the alleged cell under surveillance for months. All had residency permits and were living in Italy legally. Investigators from the anti-terror squad, Digos, monitored the suspects, who were allegedly involved in religious radicalisation, for some time before their arrests.
La Repubblica newspaper reported that the suspects were heard on wiretaps celebrating the attack outside Parliament in London last week, and had downloaded manuals on hand-to-hand fighting and the use of knives.
They were also recorded discussing the possibility of blowing up Venice's Rialto Bridge with the plan to kill hundreds of tourists in doing so. They have also been heard discussing their desire to join Islamist fighters in Syria, according to La Repubblica. It was not clear whether an attack was imminent.
Italy has deported 153 terror suspects since January 2015 and 21 since the beginning of this year.
Earlier this month the country expelled a Tunisian man who was allegedly linked to Anis Amri, a fellow Tunisian who rammed a truck into a crowd at a Berlin Christmas market in December, killing 12. Amri was shot dead by Italian police days after during a routine check in Milan.
Italy has been on high alert since the Charlie Hebdo attacks in Paris in January 2015, with security ramped up even further since last week's terror attack in London.
This story first appeared on The Local it
Tags:
News