Palm trees appeared suddenly in Milan's famous cathedral square and people are not happy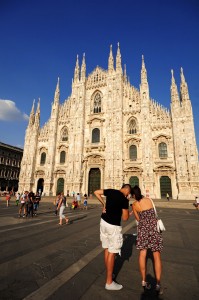 The row over the use of non-native plants beside an iconic Italian landmark was triggered as a total of 42 palm trees, some of them five metres (17 feet) tall, were the first plants to be installed under a plan that also involves placing banana trees in the shadow of the 14th-century Gothic cathedral, known as the Duomo.
Contributing to the insult for some botano-nationalists is the fact that the planting project has been sponsored by Starbucks, the US coffee giant who in preparation for an invasion on the Italian market based on the nation's cherished network of mostly independent bars.
"Plants in urban green spaces don't necessarily have to be native, but planting these species in the Duomo Piazza seems like a neo-Gothic folly to me," said Paolo Pejrone, a celebrated Italian architect and garden designer.
"Palms and bananas in Piazza Duomo! All we need now are camels and monkeys and we will really have Africa in Italy," said Matteo Salvini, leader of the Northern League.
The far-right politician has already been rubbed up the wrong way as Starbucks' reported suggestion it could employ thousands of African refugees in its future Italian stores.
"As far as their coffee is concerned, I'll be having mine somewhere else," Salvini said.
Starbucks got the trees planted in the Piazza as they won a tender to renovate some the green spaces in Milan.
But even centre-left mayor Giuseppe Sala was not utterly convinced.
"As a citizen I'll suspend judgement. Let's see when the work is finished," he said. "Basically I don't dislike it, there is a historic reference there."
Palms are not native to Italy but are very common in more temperate areas of the country, including Rome, the Riviera and Sicily. Some palms in Italy are older than the country itself, having been brought to the peninsula initially by novelty-seeking aristocrats in the 18th and 19th centuries.
They were later championed by fascist dictator Benito Mussolini as symbols of Italy's short-lived African empire.
Starbucks, which has again and again delayed its much awaited bid to take on the home of espresso and cappuccino, is now set to open its first branches in Milan and Rome during the second half of next year, according to Antonio Percassi, the man leading the brand's introduction to Italy.
He explained to local media on Wednesday that the brand wants to establish 200-300 outlets across Italy during the next five to six years.
This story first appeared on Yahoo
Tags:
Milan